Features:
100% brand new.
With Measurement Funtions (measure for "Line,Continuous Line,Rectangle,polygon,Radius Circle,Diameter Circle,Three points Circle,Angle and Four Points Angle")
Adjustable focus, can zoom in max 200X
Built-in white 8 LEDs for illumination(switchable and adjustable)
Instant snapshots and time-lapse video recording(Picture and video recorder)
Includes:Microscope,stand and application & Measurement Funtions software
Color: White
LED color: White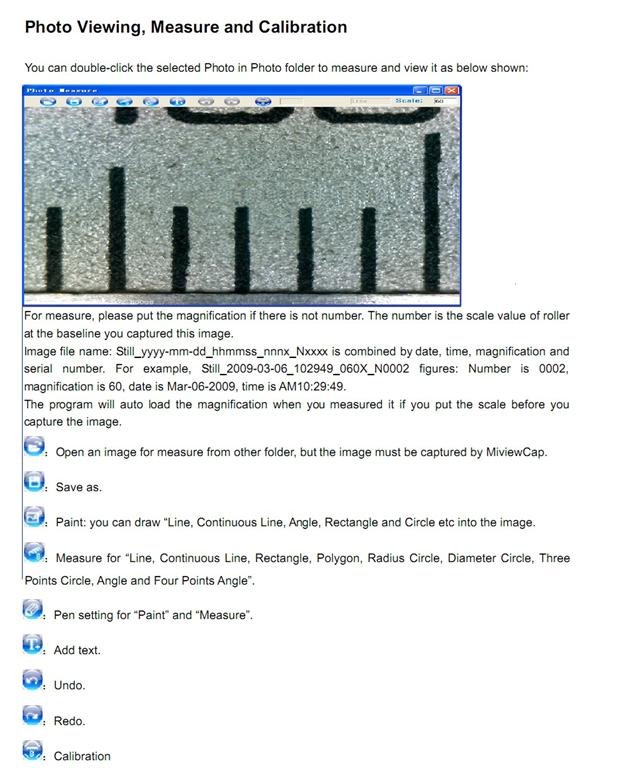 The using of USB microscope (Wide application)
Biological anatomy observation
Industrial inspection and quality control
Bodyshop and private skin observation
Student trial tool
Medical analysis tool
Fake,fossil,pattern and hobbies checking
Natures and structure observing
Jewelry,watch and artworks appraisal
Visual assistance
Textile inspection
Industries produce viewing e.g. PCB/Electronic components inspection.
Specifications
Magnification: 10X - 200X @ 17" monitor full screen view
Field of view:

Min : 1.9 mm x 1.5mm @ 17mm working distance (1.5 um/pixel)
Max : 82mm x 65mm @ 300mm working distance

Image Sensor: 1.3 Mega pixels
Video Capture Resolution 1280x1024,640x480,320x240
Color: 24bit RGB or YUV or MJPG
Lens: High Precision Microscope Lens
Focus Range: Manual from 8mm to 300mm
White Balance: Auto
Exposure time: Auto
Light Source: Integrated adjustable LED illumination
Output: USB streaming video
Power supply: 5V DC from USB port
Size: 120mm(L)x 36mm(R)
Weight:106g
System requirements
CPU Pentium/Celeron/AMD 1.0G or above
Windows XP SP2/vista or Mac OS
PC interface:USB 2.0 or 1.1 port
VGA Card:16 bit or above
CD-ROM drive
Packing including:
1x Miview Divice Microscope
1x Device holder with 1/4" thread
2x Transparent stand spacers
1x Microscope Stand
1x Mini Tripod
1x Quick instruction guide: Measurement functions
1x User manual
Cell jammer Cell jammer
http://www.trioffer.com/handheld-cell-phone-jammer-hpj03-p-21638.html
http://www.trioffer.com/security-equipment-jammers-c-118_120.html?lg=g